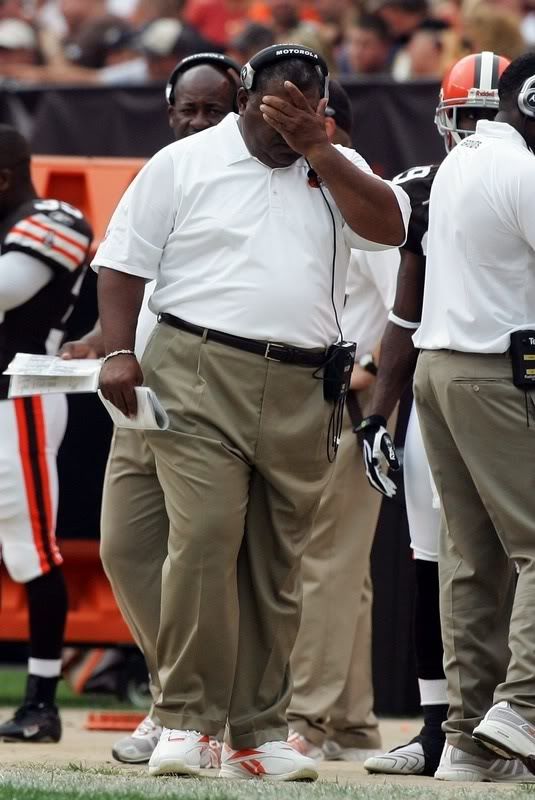 Thoughts…
· Jamal Lewis has clearly lost a step…at least. It's time to give the bulk of carries to Jerome Harrison & look to draft or free agency in the upcoming offseason for a RB. I don't see Lewis in a Browns uni in 2009.
· The Quinn Era is here and, as Savage said before this season, once it starts there's no going back. Amen. Try to restructure DA's contract to that fitting of a backup QB & see if he bites. If not, get the most you can for him in a trade.
· Benching or trading Edwards would be stupid. He is a force. They way you fix his drops is to get a possession WR to play opposite him or in the slot. Jurevicius, whether he comes back in 2009 or not, is an iffy gamble to fill that role so seek one thru the draft or free agency.
· The drafting of Martin Rucker was a clear signal to Kellen Winslow. And 'StaphGate' exposed the rift between him & Savage (if the Rucker pick didn't already). I think the best move, for the 'good of the team' as it were, would be to trade Winslow after the season for picks & players.
· What to do with those picks & what players? Simple. Guys who can tackle. The Denver game totally ripped the mask off of the biggest weaknesses of this team – mediocre LBs who consistently seem out of position to either break up the play or lay the lumber after a catch. To see a lumbering, gimpy TE get past the LBs in the Denver game for catches is inexcusable.
· McDonald & Wright will be solid CBs. The problem is the Bodden trade & season-ending injury to Holly forced them to be starters before they were ready. They're green bananas that should ripen nicely.
· Ditto for Pool. The secondary was most effective when Brian Russell was back there, so a vet presence would go a long way.
· Offseason priorities are, in order: 1) Linebackers who would decapitate their mothers, 2) A RB who hits the hole hard & fast, 3) CB & S depth via a vet free agent signings, 4) A possession WR if Sanders or Steptoe aren't already considered the answer.